---
Keren ni gan alatnya. ga usa repot2 lagi ntuk Masuk ke situs2 sseperti Facebook dan kaskus
With the advanced technology now, you wont have to write your password when entering your Facebook account. Because a device called EyeLock which gives you the easy way to access your Facebook account as easy as you look at someone else in front of you.
Besides Facebook accounts, with EyeLock you can also use for other social websites and your other favourite websites that requires a password to enter.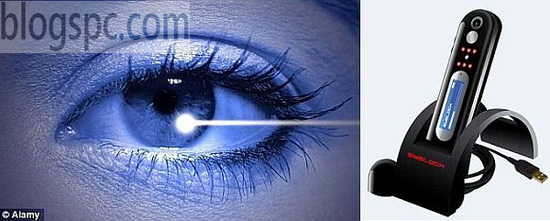 The technology that is being developed by Hoyos Group, a company that specialize in making biorithmic tools, assuring the sensor tool towards the retina will be the medium to open your website accounts using your eyes, without having to ever type in the password manually.
The way to use it is also very easy, simply by connecting Eyelock to your computer through USB connection. Then, you choose the websites or applications on your computer to be protected. For an example your Facebook account, to enter your account you wont have to fill in the username and password column aymore.
Selengkapnya disini gan, ada Video Demo nya juga
http://blogspc.com/log-in-to-faceboo...-password/1080